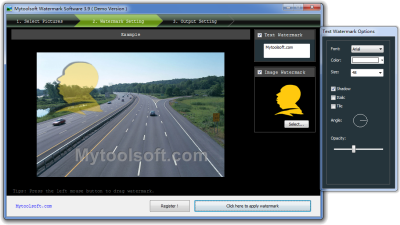 Watermark Software
watermarking your multiple photos in batch mode. quickly and easily.
764KB version: 3.9.5Only $19.95
text watermark in left-bottom corner
image watermark in right-bottom corner
text watermark and image watermark
Features
Mytoolsoft Watermark Software is an easy-to-use watermark software which was created to help you add watermarks to multiple photos at once. Easy three-step operation to complete. Support text watermark and image watermark. Freedom of watermark location and styles. Protect your photos without unauthorized distribution.
Support multiple picture formats: BMP, JPG, JPEG, GIF, PNG....
Text watermark or image watermark or both.
lock and batch.
Freedom of location, margins and tile, watermark anywhere.
Rich watermark styles, such as multiline, tile, angle, shadow and opacity.
What you see is what you get.
Rotate photos.
Resize photos.
Convert format.